This is an archive of the version 1.x G5. Version 2.0 is now a RealSimGear product (existing customers have been transferred to the new product).
1.0 General Usage
Power Button

To turn on the G5 push the power button. The startup process will commence.
To turn off the G5 push and hold the power button until the countdown shows. Once the countdown shows, let go. To cancel the power off, tap the power button.

Knob

To advance the current data point forwards, rotate the knob clockwise
To advance the current data point backwards, rotate the knob counter-clockwise/anti-clockwise
To select the current setting in the menu, or to trigger the menu, click the center of the knob.
2.0 PFD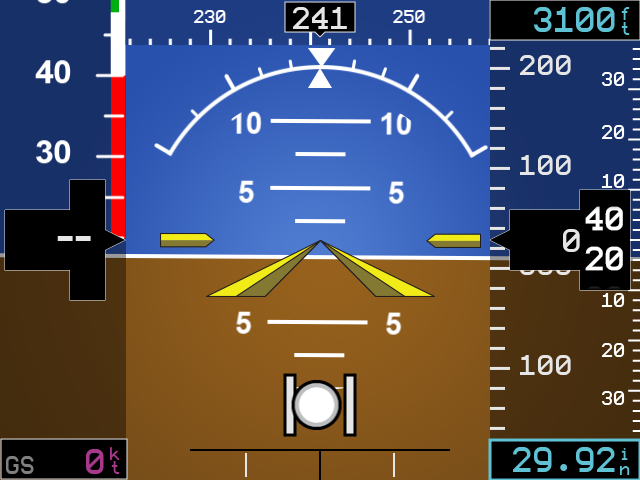 Data

The left side of the PFD has the airspeed indicator
The right side of the PFD has the altimeter and vertical speed indicator
The top of the PFD has the current magnetic heading
The bottom left corner has the current ground speed
The bottom right corner has the current barometric pressure
The top right corner has the current autopilot selected altitude

Changing values

By default, rotating the knob will adjust the barometric pressure
To change other values, click the knob to enter the menu
In the menu, rotate the knob to choose your setting:

Back – this will hide the menu and not change current setting
Baro – this will make barometric pressure the current setting
Altitude – this will make the altitude preselect the current setting
Heading – this will make the heading-bug the current setting
HSI – this will move the G5 into HSI mode (see Section 3.0)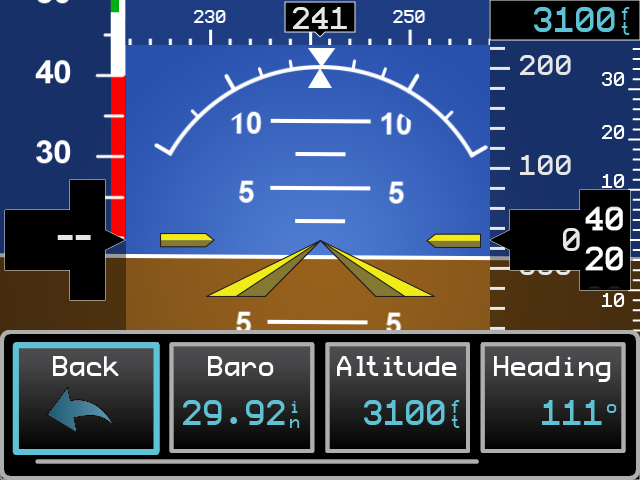 3.0 HSI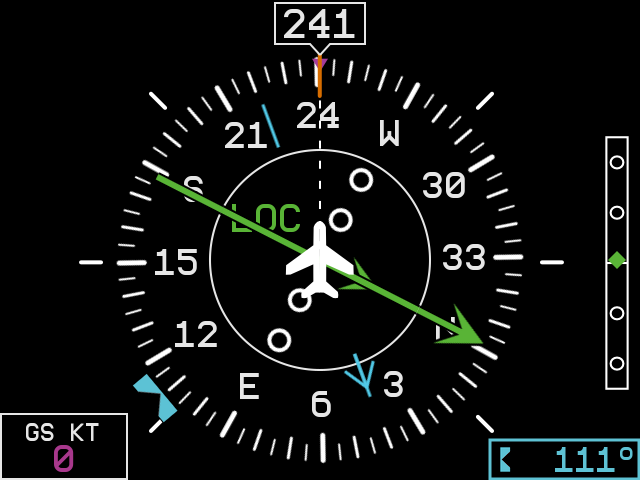 Data

The top of the rotating compass will show the current heading
The rotating compass will rotate with magnetic heading
The large arrow will point in the direction of the course

The inner arrow contained is the to/from indicator
The center of the arrow moves to the relative left and right of the arrow to show horizontal deflection

The right side shows the vertical deflection indicator
The bug on the compass is the heading-bug
The bottom right corner shows the degree of the heading-bug
(Configurable) The cyan arrow on the compass is the bearing pointer
The bottom left corner shows the current ground speed

Changing values

By default, rotating the knob will adjust the heading bug
To change other values, click the knob to enter the menu
In the menu, rotate the knob to choose your setting:

Back – this will hide the menu and not change current setting
Heading – this will make the heading-bug the current setting
Course – this will make the course select the current setting
Bearing Pointer – clicking this will toggle the visibility of the bearing pointer
PFD – this will move the G5 into PFD mode (see Section 2.0)